Our newest franchisee, Karena Durnell, comes to Gotcha Covered with decades of retail experience, many in upper management, from big name retailers like T.J. Maxx Canada/Winners Merchants International.
Karena will be building her new Gotcha Covered business in Oakville, Ontario. She will be joining two existing franchisees in the Toronto metropolitan area. With a population of nearly three million, each franchisee will directly and indirectly help the others by building the Gotcha Covered brand.
From Corporate to Motivated Small Business Owner
An experienced professional, Karena has worked with vendors, internal and external stakeholders, and knows how to manage, negotiate, build, and maintain crucial relationships. Karena has a warm and friendly personality, and a demonstrated commitment to excellence.
Karena is looking to build income and equity for herself, instead of another big company. She is open to establishing a retail storefront in the future, but first she will learn and build the business before making that investment. It's an ambitious goal she has set for herself and I have no doubt she will reach it.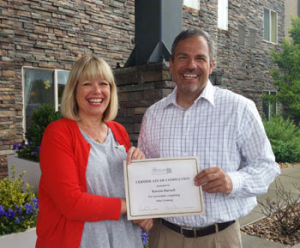 Karena is a "people person" and is sincerely looking forward to helping people find the right window treatments for their homes. She is also energized by the prospect of building relationships with local companies and individuals who will be become her referral partners. Working with people on such a personal level compared to her experiences in corporate settings was part of the appeal of working for herself and specifically with Gotcha Covered.
Like many of our franchisees, Karena was drawn to the flexibility Gotcha Covered offers her as a small business owner. She can run her business her way while having all the support she needs or wants to be successful.
More About Us
A Gotcha Covered franchise provides a lifestyle business with extraordinary profit potential through high margins and low operating expenses, all within a very cash-flow friendly model.
Utilizing our powerful and proprietary design software, our franchisees sell virtually everything for the interior of a window, both for the residential and commercial markets. Our extensive offering includes blinds, shades, shutters, window film, and fabric treatments such as draperies, curtains, swags and cascades covering hundreds of custom window treatments and accessory options.
Message from the President
Think of me as a resource to answer any questions you may have about how we like to do business. Feel free to call at 720.407.8618 or 800.200.0835 x331. You can also email me directly at plinenberg@gotchacovered.com
I look forward to hearing your thoughts.
Sincerely,
Paul Linenberg