High Level Marketing Tracking For Our Owners!
Our Marketing Team has been hard at work making significant advancements for our Franchisees.
We have partnered with a very sophisticated, high level marketing tracking platform that allows us to determine with more accuracy than ever before all the ways Gotcha Covered is discovered by our clients. This data also reveals the importance that each of these areas play in the path of a potential lead.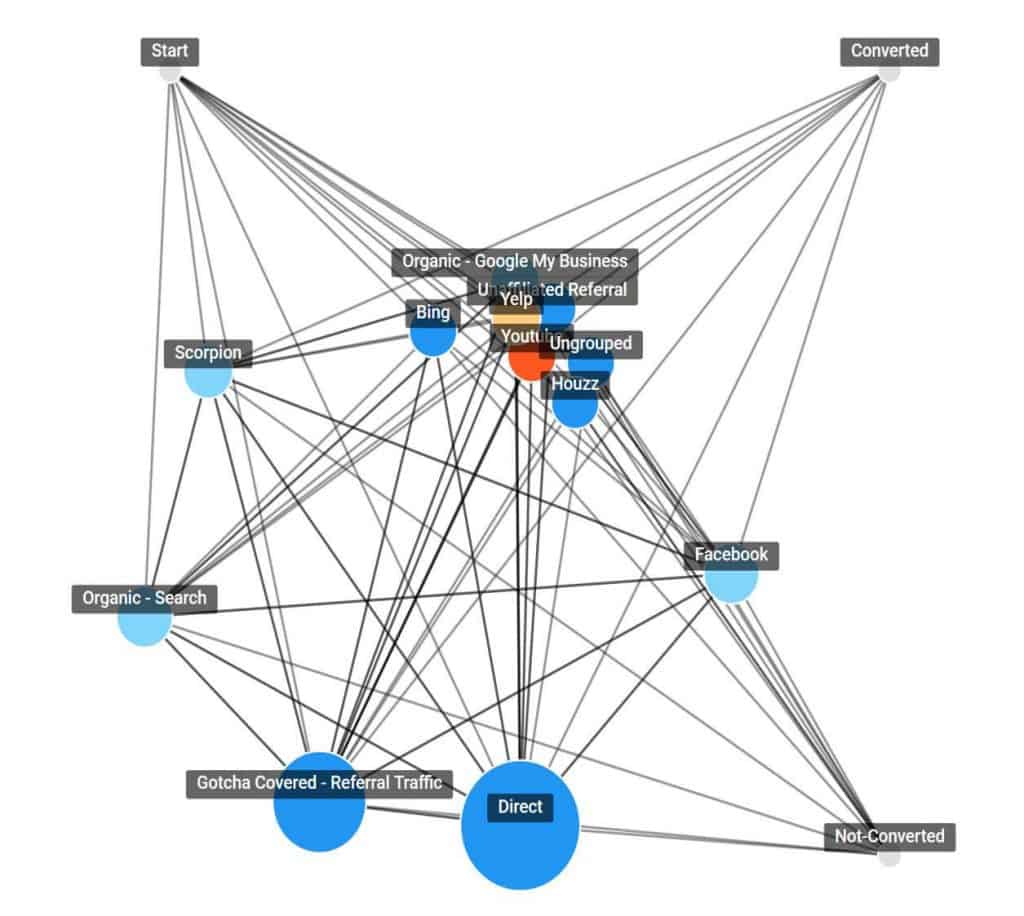 This extremely busy image shows the various paths a consumer might make on their journey to finding our website. This image is a great representation of just how complex digital marketing can be!
With this new data, we can hone our marketing strategies to target areas of importance and spend our marketing budget much more efficiently while increasing our areas of influence.
This creates amazing opportunities for us on a Corporate level, as well as for our Franchise Owners to better our return on investments!
While this technology is not new, it has only been available to Fortune 500 companies until recently.
Our Corporate Marketing Team decided to look into ways that we could take this amazing new element of marketing technology and bring it to our Franchise Owners.
This is just another way that Gotcha Covered continues to be a marketing leader for a franchise system of our size!
Even with all that is taking place with COVID-19 right now, we have not scaled back our marketing efforts. We firmly believe that helping our owners get in front of their customers is more important than ever and we are constantly working towards this goal.
Does this sound like something you've been searching for? Check out this 3 minute video and see if Gotcha Covered might just be the best opportunity you've never thought of!
About the Gotcha Covered Franchise
A Gotcha Covered franchise provides a lifestyle business with extraordinary profit potential through high margins and low operating expenses, all within a very cash-flow friendly model.
Utilizing our powerful and proprietary design software, our franchisees sell virtually everything for the interior of a window, both for the residential and commercial markets. Our extensive offering includes blinds, shades, shutters, window film, and fabric treatments such as draperies, curtains, swags, and cascades, covering hundreds of custom window treatments and accessory options!
For more information about becoming a part of the Gotcha Covered family, call us at 1-800-200-0835 (ext. 305) or email us at franchising@gotchacovered.com
A Message from the President
Think of me as a resource to answer any questions you may have about how we like to do business. Feel free to call 720-407-8618 or 1-800-200-0835 (ext. 331). You can also email me directly at plinenberg@gotchacovered.com
I look forward to hearing your thoughts.
Sincerely,
Paul Linenberg