Gotcha Covered has welcomed five new business owners covering three areas in North America.
Dan Babcock is our first Washington State franchisee covering Seattle. Albert and Dolores Conde have Charlotte, North Carolina as their territory. Phil and Lor-Lea Croteau join three other successful franchisees in the large Toronto metropolitan area. They have all just completed our initial training program and are well-equipped to launch their very own businesses and start selling!
Transferring Skills to Second Careers
All our new franchisees experienced corporate life. All our new franchisees want to build a business of their own. Choosing Gotcha Covered as their ideal business was a quick and simple matter of the process of elimination:
No employees to hire — check!
Low investment — check!
High margins — check!
Proven playbook to follow — check!
Franchise training and continuous, stellar support — check!
Those years toiling for others did no doubt help to hone business and interpersonal skills that will only accelerate their prospects for succeeding on their own. But, they know they are never alone. The Gotcha Covered model provides for ongoing support in every area of the business. If we've missed anything over the years, our open relationships invite continuous discussions on any scenario that a new business owner wants to talk about.
The Future's So Bright You'll Need (Gotcha Covered) Shades!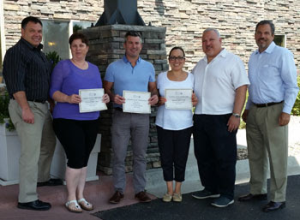 Gotcha Covered offers another clear benefit to franchisees: growing name recognition. As we grow, our visibility increases and all franchisees benefit from that brand recognition. Hunter Douglas, the largest name in our industry, is by far the most widely known brand but they are not a retailer! JC Penney's has a good reputation in the window covering marketplace and enjoy a whopping 3 percent market share. We tell our candidates about the high likelihood for their business to succeed and back it up with success story after success story.
More About Us
A Gotcha Covered franchise provides a lifestyle business with extraordinary profit potential through high margins and low operating expenses, all within a very cash-flow friendly model.
Utilizing our powerful and proprietary design software, our franchisees sell virtually everything for the interior of a window, both for the residential and commercial markets. Our extensive offering includes blinds, shades, shutters, window film, and fabric treatments such as draperies, curtains, swags and cascades covering hundreds of custom window treatments and accessory options.
Message from the President
Think of me as a resource to answer any questions you may have about how we like to do business. Feel free to call at 720.407.8618 or 800.200.0835 x331. You can also email me directly at plinenberg@gotchacovered.com
I look forward to hearing your thoughts.
Sincerely,
Paul Linenberg