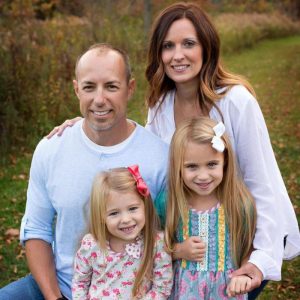 You may be wondering what to look for in the ideal candidate for Gotcha Covered. To help, we wanted to shine the spotlight on a great new franchisee who launched his business in 2015. While our model will fit a wide variety of your clients, here's an idea of what sets Matt Benedict apart from the crowd.
Matt grew up in a military family but went the direction of sales instead. He spent time in the mortgage industry and more recently did business development for a restoration company. His wife is a school teacher, and like many families, Matt wanted more time with his precious little girls. That's when he began exploring entrepreneurship.
Matt loved that Gotcha Covered could mean a significant increase in his pay and give him more flexibility to spend time with his family. He was tired of the teeter totter life with time on one side and money on the other. Joining the Gotcha Covered family was a "no-brainer" for Matt.
"Matt is exactly what we look for in our candidates," CEO Vic Yosha explains. "Matt is simply very likable, and his true strength is that he is a great networker that has developed a strong referral stream in the short time he's been in business."
The Benedict business is booming. In 2016, they broke into out top 10 grossing franchises in just his second year of business. According to Matt, 2017 is shaping up to be even better. With the high margins and low overhead, Matt and his family are already reaping great rewards from their efforts.
About the Gotcha Covered Franchise
A Gotcha Covered franchise provides a lifestyle business with extraordinary profit potential through high margins and low operating expenses, all within a very cash-flow friendly model.
Utilizing our powerful and proprietary design software, our franchisees sell virtually everything for the interior of a window, both for the residential and commercial markets. Our extensive offering includes blinds, shades, shutters, window film, and fabric treatments such as draperies, curtains, swags and cascades, covering hundreds of custom window treatments and accessory options.
A Message from the President
Think of me as a resource to answer any questions you may have about how we like to do business. Feel free to call at 720.407.8618 or 800.200.0835 x331. You can also email me directly at plinenberg@gotchacovered.com
I look forward to hearing your thoughts.
Sincerely,
Paul Linenberg