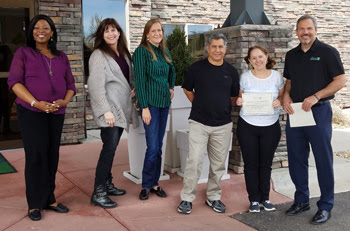 Our training classes are coming fast and furious to accommodate our growth this year. We just completed another full session last week, and we have another in just a few weeks. We are pleased to introduce our latest group of incredible franchisees:
Blessing Oghobaase
North Houston, TX
Originally from New York but now living in the Galleria part of Houston, Blessing joins Gotcha Covered after have spent 15+ years in higher education- admissions, operations, and marketing. A new Mom (2-year old son), and also a soon-to-be Mom (girl on the way), Blessing wants to be in charge of her own destiny, not "clock in" or prove herself to anyone anymore, avoid the politics of the corporate world, and find the balance of financial performance and lifestyle that works for her. Having explored a variety of other franchise systems, Blessing is poised and ready to build a great Gotcha Covered business!
Jocelyn Paul
Seattle, WA
Jocelyn has spent most of her career in the high-tech world of the Pacific Northwest, including stints in and around Microsoft, Amazon, and others. Her roles have included marketing, advertising, training, and customer service/account management. With two kids at home, Jocelyn was looking for a business that serves a demonstrated consumer need, gives her the financial opportunity to support her family, and the ability to manage her schedule and spend more time with her children. Jocelyn is also going to enjoy a softer marketing and sales approach rather than heavy cold calling and an aggressive sales pitch.
Susan Ferguson & Ernesto Rodriquez
North Tampa, FL
Susan and Ernesto found Gotcha Covered through our very own Cliff Oberg and will be teaming up with him to dominate the Tampa market. Ernesto has spent most of his career as an electrician with several stints in other industries, while Susan has spent her career in various roles in the IT world. Ernesto will be the face of Gotcha Covered working full-time with Susan helping behind the scenes until she joins him in the not-too-distant future. Interestingly, Susan and Ernesto are former Gotcha Covered customers, having purchased from Cindy Domino in California before they moved to Tampa!
Sharon and Glenn Wise
Sarasota, FL
Sharon and Glenn have recently moved to Sarasota from New Jersey, where Sharon had grown up. The move was in part motivated by Glenn leaving his business development job with a software company to join a golf start-up company, while Sharon is re-entering the work force after getting the last of her three children into school full time. Prior to her child-rearing hiatus, Sharon was employed in the financial services sector, and will be operating the business full time with Glenn helping behind the scenes. Sharon and Glenn are very excited to finally be doing something for themselves!
About the Gotcha Covered Franchise
A Gotcha Covered franchise provides a lifestyle business with extraordinary profit potential through high margins and low operating expenses, all within a very cash-flow friendly model.
Utilizing our powerful and proprietary design software, our franchisees sell virtually everything for the interior of a window, both for the residential and commercial markets. Our extensive offering includes blinds, shades, shutters, window film, and fabric treatments such as draperies, curtains, swags and cascades, covering hundreds of custom window treatments and accessory options.
A Message from the President
Think of me as a resource to answer any questions you may have about how we like to do business. Feel free to call at 720.407.8618 or 800.200.0835 x331. You can also email me directly at plinenberg@gotchacovered.com
I look forward to hearing your thoughts.
Sincerely,
Paul Linenberg