Our latest training class graduate are ready to kick off their new businesses and put all their newly acquired knowledge to work. We are pleased to introduce the latest members of our group of incredible franchisees: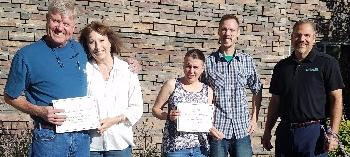 Robert & Lori Huntington – Bonney Lake, WA
Robert and Lori join Gotcha Covered from the retail industry, having originally met years ago working for OfficeMax. Lori stayed in that company through the merger with OfficeDepot while Robert helped run a Cash America location. Lori recently began working part time for an old boss who had purchased a Budget Blinds franchise, which is what got her interested in our industry and company. Robert and Lori are incredibly excited to be out the retail world with the long hours and the broken promises, and to finally have a chance to work together and build something significant of their own.
Patrick & Barbara Lammers- Spokane, WA
Patrick and Barbara come to Gotcha Covered as relatively new transplants to the Spokane area. Both are originally from California; Patrick has spent most of his career in construction/landscaping, while Barbara has been a management accountant with a loyal client base. Now living their dream of being out of the rat race and in a country setting, their plan is for Patrick to leverage his extensive experience working with homeowners to run the front end of the business, with Barbara doing the back end support. They are thrilled to be started on this very exciting chapter in their lives.
Gotcha Covered's extensive training doesn't end here. The new franchisees are back in their home territory for product training this week and will continue to receive training and support from our team until they return to Denver for advanced training in just a few months.
About the Gotcha Covered Franchise
A Gotcha Covered franchise provides a lifestyle business with extraordinary profit potential through high margins and low operating expenses, all within a very cash-flow friendly model.
Utilizing our powerful and proprietary design software, our franchisees sell virtually everything for the interior of a window, both for the residential and commercial markets. Our extensive offering includes blinds, shades, shutters, window film, and fabric treatments such as draperies, curtains, swags and cascades, covering hundreds of custom window treatments and accessory options.
A Message from the President
Think of me as a resource to answer any questions you may have about how we like to do business. Feel free to call at 720.407.8618 or 800.200.0835 x331. You can also email me directly at plinenberg@gotchacovered.com
I look forward to hearing your thoughts.
Sincerely,
Paul Linenberg