We had another fantastic group of new franchisees come through training this month, and we know they have a very bright future with the Gotcha Covered family!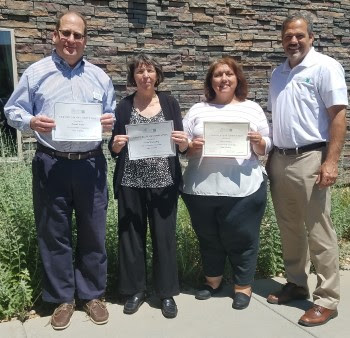 Daniel Sogin and Sarah Warhaftig—St. Paul, MN
Daniel joins Gotcha Covered with a varied background that includes engineering, software, and most recently, teaching math to middle school students. You may remember Daniel from this past Conference, as he actually signed his agreement last year and attended Conference but waited until the school year was out before coming to training last week. Joining Daniel in training—and in the business—is his sister, Sarah, who has been working as an independent contractor focused on risk management in the insurance industry. Daniel and Sarah will be working the business together in a way that will evolve as they launch and grow the business.
Pilar Wildey—San Diego, CA
Pilar comes to Gotcha Covered after a career doing graphic design and other related functions for a supply company. She lost her job when the company moved out of state and decided that she did not want to get back into the corporate world and risk that again. Wanting to control her destiny but burned out on design, Pilar looked at other options including a sign business, house cleaning, and after-school tutoring before settling on Gotcha Covered. She will work the business as a sole owner operator and may consider growing into a storefront in the coming years.
Also, check out our online Consultant Toolkit for exclusive access to presentation guides, a host of videos including testimonials, and complementary presentations tools. Take note of the required password: gotcha
About the Gotcha Covered Franchise
A Gotcha Covered franchise provides a lifestyle business with extraordinary profit potential through high margins and low operating expenses, all within a very cash-flow friendly model.
Utilizing our powerful and proprietary design software, our franchisees sell virtually everything for the interior of a window, both for the residential and commercial markets. Our extensive offering includes blinds, shades, shutters, window film, and fabric treatments such as draperies, curtains, swags, and cascades, covering hundreds of custom window treatments and accessory options.
A Message from the President
Think of me as a resource to answer any questions you may have about how we like to do business. Feel free to call at 720.407.8618 or 800.200.0835 x331. You can also email me directly at plinenberg@gotchacovered.com
I look forward to hearing your thoughts.
Sincerely,
Paul Linenberg