Our Franchise Owners Are Going Virtual!
We are in uncharted territory with new changes being implemented each day as we face COVID-19 head on.
Apart from taking the necessary precautions for ourselves, our next priority is how do we assist our Franchise Owners though this process?
As a primarily home-based franchise, we are very fortunate that the majority of the day-in and day-out functions of our owners can be performed from their homes.
Our corporate team has complied a list of processes that will make reaching out and following up with current and potential clients completely virtual!
With the power of technology on our side, most of the initial consultation steps can be completed via phone, email, or by video chat!
We are encouraging all of our owners to follow up with each individual client and see what can be done to further the process before simply putting everything on pause. If the customer is comfortable continuing the process virtually, then we have the tools in place to help them through this process!
Of course, many will choose to place their projects on hold for the time being, but we see this as a great opportunity for our Franchise Owners to catch up on some of the other things on their to-do list!
It is easy to let the hectic lifestyle of a small business owner take priority over the more mundane, day-to-day items. What a unique opportunity to get all those smaller affairs in order so that when things start to return to normal, they will be ready to hit the ground running!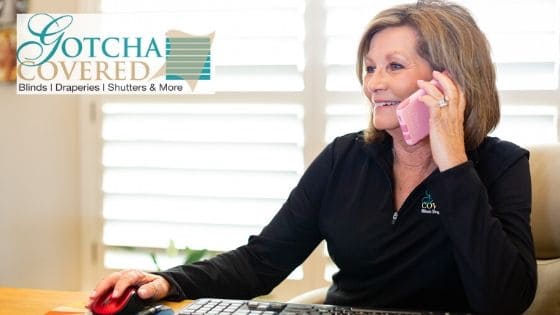 Does this sound like something you've been searching for? Check out this 3 minute video and see if Gotcha Covered might just be the best opportunity you've never thought of!
About the Gotcha Covered Franchise
A Gotcha Covered franchise provides a lifestyle business with extraordinary profit potential through high margins and low operating expenses, all within a very cash-flow friendly model.
Utilizing our powerful and proprietary design software, our franchisees sell virtually everything for the interior of a window, both for the residential and commercial markets. Our extensive offering includes blinds, shades, shutters, window film, and fabric treatments such as draperies, curtains, swags, and cascades, covering hundreds of custom window treatments and accessory options!
For more information about becoming a part of the Gotcha Covered family, call us at 1-800-200-0835 (ext. 305) or email us at franchising@gotchacovered.com
A Message from the President
Think of me as a resource to answer any questions you may have about how we like to do business. Feel free to call 720-407-8618 or 1-800-200-0835 (ext. 331). You can also email me directly at plinenberg@gotchacovered.com
I look forward to hearing your thoughts.
Sincerely,
Paul Linenberg