Our Newest Gotcha Covered Franchisees!
Young, Ambitious and Headed for Success
Chris and Michelle Kearns, the new North West Pittsburgh franchisees, went looking for the right business to start and knew it when they found it. Talking with an established and highly successful Gotcha Covered franchisee in their area, who immediately invited them to do a large home show, reinforced their already-confident decision. They have flipped homes and loved it but realize that the window treatments business offers a lot more flexibility and the lifestyle they want for themselves and their young children.
The new West Houston franchisees Manuel and Yamilka Rodriguez chose Gotcha Covered because they live in booming area, one of the fastest growing in the United States in fact. They see new planned communities being built along with commercial buildings and know those are ideal selling situations. Yamilka has always had a love of design and Manuel is a problem-solver. Combined, they feel they have a great balance to run their business successfully.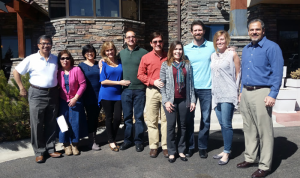 Pictured here left-to-right are Romy Cambaliza with his sister Ester and his wife Rose, Yamilka and Manuel Rodriguez, Vince Bonnici and Lily Jaramillo, Chris and Michelle Kearns, and Gotcha Covered President Paul Linenberg.
Growth in the Toronto Area Continues on an Impressive Trajectory
Team Cambaliza in the Guelph, Ontario area will be run primarily by sisters-in-law Ester and Rose with Rose's husband and Ester's big brother Romy working behind the scene. They made their decision to franchise with Gotcha Covered based largely on the dedicated people behind the franchise. They were impressed with everyone they listened to (Vic Yosha) and talked to (Paul Linenberg of course). Then, franchisees helped seal the deal by freely sharing their success stories and praising the perfect amount of support they enjoy from the corporate staff.
Husband and wife Vince Bonnici and Lily Jaramillo's territory is in the Milton area of Ontario. After considering numerous self-employment opportunities, Gotcha Covered became the clear choice since key to Vince's decision was his ability to have a lot of autonomy in how he runs his business. Key to Lily's decision was that she have an outlet that allows her to be creative. With her background in fabric design and as a fabric buyer, Lily's formal training and experiences will serve her well as the face of this new franchise with Vince handling operations.
More About Us
A Gotcha Covered franchise provides a lifestyle business with extraordinary profit potential through high margins and low operating expenses, all within a very cash-flow friendly model.
Utilizing our powerful and proprietary design software, our franchisees sell virtually everything for the interior of a window, both for the residential and commercial markets. Our extensive offering includes blinds, shades, shutters, window film, and fabric treatments such as draperies, curtains, swags and cascades, covering hundreds of custom window treatments and accessory options.
A Message from the President
Think of me as a resource to answer any questions you may have about how we like to do business. Feel free to call at 720.407.8618 or 800.200.0835 x331. You can also email me directly at plinenberg@gotchacovered.com
I look forward to hearing your thoughts.
Sincerely,
Paul Linenberg