We had a fantastic group of new franchisees come through training this month, and we know they have a very bright future with the Gotcha Covered family.
FUN and RANDOM FACT: All but one of our new franchisees was born outside North America!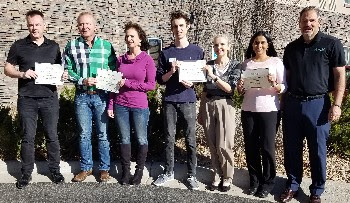 Asha Patel, Naperville, IL
Asha has spent her early career in the IT world, primarily in user support roles helping customers and users. After leaving the corporate world to be home with her kids for several years, Asha is now getting back into the working world through her new Gotcha Covered business. She was attracted to the flexibility of our model so that she can work around her kid's schedule and still build a great business. Asha looked at a couple other options, including a vegan cinnamon roll store, before deciding that Gotcha Covered was the right fit for her.
Svet & Larry Fussell, Winter Garden, FL
Svet and Larry join Gotcha Covered as current owners of another franchise in the tutoring space. Their tutoring company is relatively passive in terms of management needs, which gives them the opportunity and bandwidth to build a great Gotcha Covered business. Svet has a background in sales and marketing plus a degree in fashion merchandising, while Larry is currently a sales executive in a food services company. Svet will be the primary operator out of the gate, but Larry's workload will allow him to spend a lot of time helping launch the business, and hopes to join full-time in the next few months.
Mitch Keegan, Durham, NC
Mitch joins Gotcha Covered after a 20-year career in IT, with his last position as an IT Director sometimes working 100+ hours per week. After leaving the corporate world, Mitch opened and ran a yoga/massage studio for several years, then sold that and opened and operated a carpet cleaning franchise for a few years. The physical toll of those ventures eventually compelled Mitch to sell his carpet cleaning business and look for something else. Mitch estimates that he has investigated over 60 franchises before deciding that Gotcha Covered was the right fit for him.
Kremena Popova & Nikolay Kovachev, Pacific Palisades, CA
Kremena and Nikolay are a mother/son duo joining Gotcha Covered in one of the more upscale areas of the Los Angeles area. Kremena's background includes a degree in the Art History and a long tenure in a variety of sales roles. Kremena will leverage her sales skills to be the face of Gotcha Covered for the time being. Nikolay currently works for a graphic and print company, and will help his mom behind the scenes while the business grows, and will join her as the business allows. Kremena and Nikolay looked at a number of franchise systems but loved the happiness and family atmosphere at Gotcha Covered.
Learn More…
Find details about the business opportunity including testimonials, presentation tools, territory maps and much more with our Consultant Toolkit. To access the website, use the password gotcha.
About the Gotcha Covered Franchise
A Gotcha Covered franchise provides a lifestyle business with extraordinary profit potential through high margins and low operating expenses, all within a very cash-flow friendly model.
Utilizing our powerful and proprietary design software, our franchisees sell virtually everything for the interior of a window, both for the residential and commercial markets. Our extensive offering includes blinds, shades, shutters, window film, and fabric treatments such as draperies, curtains, swags, and cascades, covering hundreds of custom window treatments and accessory options.
A Message from the President
Think of me as a resource to answer any questions you may have about how we like to do business. Feel free to call at 720.407.8618 or 800.200.0835 x331. You can also email me directly at plinenberg@gotchacovered.com
I look forward to hearing your thoughts.
Sincerely,
Paul Linenberg