Please help me welcome the newest members of the Gotcha Covered family!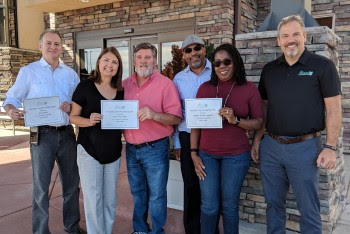 Joe Nespola – Shelton, CT
Originally from the Bronx, Joe is our first franchise owner in Connecticut. Joe is a US Navy Veteran, having served four years coming out of high school. Joe has spent the bulk of his career on the IT side of investment banking. His last position was with IBM, which was the final impetus for Joe to strike out on his own through business ownership. Joe looked at several franchise systems, including appliance repair among others, until he finally decided that Gotcha Covered was the right choice for him.
Jack and Lisa Eddy – Phoenix, AZ area
Jack and Lisa recently moved to the Phoenix area after having spent 20 years in Tucson. Jack will be the primary driver in their new business and brings a background in the solar and construction industries to Gotcha Covered. He is planning on being the sales and installation point person for the time being. Lisa is a loan officer and will keep her job while helping behind the scenes with the administrative side of the business. Interesting fact: the Eddy's learned about Gotcha Covered through Matt Benedict's brother, Tom, who lives in Arizona.
Brian and Tenesia Campbell – Orlando, FL area
Both Brian and Tenesia join Gotcha Covered with technical backgrounds. Brian got his training during his 10-year stint in the Army and has spent most of his career in IT as a systems analyst with an emphasis on security. Tenesia has spent most of her career as a business analyst doing software testing and met Brian while working for the same company. They moved to Florida about two years ago, and looked at several other franchises, including a poke restaurant, before deciding that they really wanted a home-based business like Gotcha Covered.
Also, check out our online Consultant Toolkit for exclusive access to presentation guides, a host of videos including testimonials, and complementary presentations tools. Take note of the required password: gotcha
About the Gotcha Covered Franchise
A Gotcha Covered franchise provides a lifestyle business with extraordinary profit potential through high margins and low operating expenses, all within a very cash-flow friendly model.
Utilizing our powerful and proprietary design software, our franchisees sell virtually everything for the interior of a window, both for the residential and commercial markets. Our extensive offering includes blinds, shades, shutters, window film, and fabric treatments such as draperies, curtains, swags, and cascades, covering hundreds of custom window treatments and accessory options.
A Message from the President
Think of me as a resource to answer any questions you may have about how we like to do business. Feel free to call at 720.407.8618 or 800.200.0835 x331. You can also email me directly at plinenberg@gotchacovered.com
I look forward to hearing your thoughts.
Sincerely,
Paul Linenberg