Please help me welcome the newest members of the Gotcha Covered family!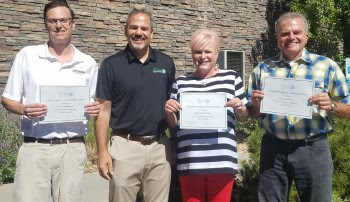 Wayne Elmore – Houston, TX area
With an educational background in electrical engineering and an MBA, Wayne comes to Gotcha Covered after a long career in the power generation industry, where his most recent title was Regional Sales Director. Wayne explored Gotcha Covered back in early 2017 but decided to take a corporate job at that time. His last year in the corporate world was the final push and reminder that he was ready to take control of his career and finally be the beneficiary of his own hard work. His wife, Lori, is a teacher and is interested in joining him at the right time and place.
Evan Mallernee – Denver, CO area
Evan earned a degree in Food Management from Michigan State University and has most recently worked for the largest bread manufacturer in the US. Evan grew frustrated over the politics and lack of career growth at his company as well as his options elsewhere in the corporate world. After deciding to explore business ownership, Evan looked at a range of options including a men's barbershop before deciding on Gotcha Covered. Like most of our franchise owners, he had never considered our industry but came to appreciate the income potential and lifestyle flexibility.
Shannon Streater – Dallas, TX area
For Shannon, joining the Gotcha Covered family really is a family affair, as she is the daughter of our very own Scott and Louise Brennan. Shannon has been excited to join Gotcha Covered for a while now, and actually attended a portion of last year's Conference in Denver. Shannon brings a marketing background to Gotcha Covered, having been in publishing, social media, and helping new startups build their marketing programs. Shannon also has a passion and acumen for design and is looking to build a business wherein her children might eventually play a role.
Also, check out our online Consultant Toolkit for exclusive access to presentation guides, a host of videos including testimonials, and complementary presentations tools. Take note of the required password: gotcha
About the Gotcha Covered Franchise
A Gotcha Covered franchise provides a lifestyle business with extraordinary profit potential through high margins and low operating expenses, all within a very cash-flow friendly model.
Utilizing our powerful and proprietary design software, our franchisees sell virtually everything for the interior of a window, both for the residential and commercial markets. Our extensive offering includes blinds, shades, shutters, window film, and fabric treatments such as draperies, curtains, swags, and cascades, covering hundreds of custom window treatments and accessory options.
A Message from the President
Think of me as a resource to answer any questions you may have about how we like to do business. Feel free to call at 720.407.8618 or 800.200.0835 x331. You can also email me directly at plinenberg@gotchacovered.com
I look forward to hearing your thoughts.
Sincerely,
Paul Linenberg