Gressa Schroeder has joined Gotcha Covered as a designer/franchisee with her new business covering the East metro area of Minneapolis, including St. Paul and Woodbury.
As the former small business owner of a graphic design firm, Gressa joins Gotcha Covered comfortable in the role of managing her own business and confident in her prospects for success. And, with three young children at home, the flexibility to choose her own hours and manage her household were also part of the appeal in this life-changing decision. Of course, our proven system and enviable margins no doubt also contributed to her wise decision to choose Gotcha Covered!
Highly Valued, Transferable Skill Will Benefit Homeowners and Business Owners
But, it is delivering custom, visually interesting and high-functioning spaces that's at the heart of the success for our franchisees. We know that with Gressa's passion for design and drive to succeed, Gotcha Covered is the right franchise for her.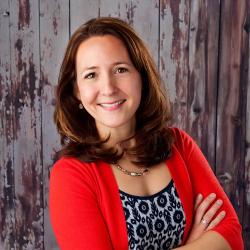 "Creative design has always been at the heart of my work. I started my window treatment business after 15 successful years working as a graphic designer. When it was time to make a change, I chose to continue my career as a creative professional with Gotcha Covered because it allows me to work directly with clients whom I know will appreciate the high quality of products I offer, enhanced by my seasoned design background," said Gressa.
More About Us
A Gotcha Covered franchise provides a lifestyle business with extraordinary profit potential through high margins and low operating expenses, all within a very cash-flow friendly model.
Utilizing our powerful and proprietary design software, our franchisees sell virtually everything for the interior of a window, both for the residential and commercial markets. Our extensive offering includes blinds, shades, shutters, window film, and fabric treatments such as draperies, curtains, swags and cascades covering hundreds of custom window treatments and accessory options.
Message from the President
Think of me as a resource to answer any questions you may have about how we like to do business. Feel free to call at 720.407.8618 or 800.200.0835 x331. You can also email me directly at plinenberg@gotchacovered.com
I look forward to hearing your thoughts.
Sincerely,
Paul Linenberg